Announcements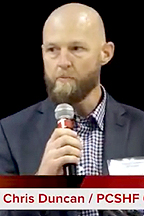 Chris Duncan passed away after a long battle with brain cancer.  He was 38.
Duncan was inducted into the Pima County Sports Hall of Fame along with his brother Shelley with the class of 2017.
Duncan was drafted by the St. Louis Cardinals in the first round (46th overall) in the 1999 Major League Baseball draft.  After seven seasons in the Cardinals' farm system, including the Triple-A Memphis Redbirds, Duncan made his debut with St. Louis on September 10, 2005. On October 2, 2005, he became the last player to hit a home run at Busch Memorial Stadium during the regular season.
Duncan played for five seasons with the Cardinals hitting 22 home runs on the team that won the World Series in 2006. In 2006 he was named the team's rookie of the year.
After his baseball career Duncan became a popular radio host.
Duncan is a graduate of Canyon Del Oro High School where he was a standout in both baseball and football.  In Chris Duncan's baseball career he has won 4 Championships: 1997 AZ State Championship, 2002 Midwest League championship, 2004 Southern League Championship and the 2006 World Series Championship.
---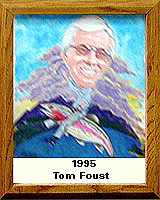 Tom Foust, Pima County Sports Hall of Fame class of 1995, passed away on May 28, 2019. Tom began his sports writing career in 1952 as a 17-yr old junior at Tucson High School. He was one of the two original correspondents hired by the Arizona Daily Star to help with high school sports coverage. The Star hired him fulltime in 1953 after he graduated from THS. As a writer, photographer, and editor, Tom reported on all aspects of sports in the community from high school to the University of Arizona; from professional golf and bowling to rodeo; from Cleveland Indians Spring Training to the old Tucson Cowboys of the Arizona-Texas League. He served as sports editor between 1970 and 1978 and returned to the Sports Department in 1986 after a stint as Community Affairs Editor.
Click HERE to see the article in the Arizona Daily Star.

Albert George Sye III, co-founder and past president of the Pima County Sports Hall of Fame, passed away on March 26, 2018. Sye, a transfer from Gloucester County College, compiled a 58-9 record while wrestling at the University of Arizona which included Western Athletic Conference Championships in 1972 and 1973. Sye was a member of the USA Wrestling Team when they competed against the Mongolian World team in 1975.
A memorial service for Sye will be held at the University of Arizona Student Union, in the Santa Rita Banquet Room, 1303 E University Blvd. in Tucson on Saturday, May 26th, 2018 from 11:00 AM to 3:00 PM.
Click HERE to read Al Sye's obituary at OakPark.com