Banquet/Tickets
Pat Darcy, President of the PCSHF. interviewed 2019 class members at the press conference held on September 18, 2019.

30th Annual Induction Banquet
PIMA COUNTY SPORTS HALL OF FAME
Sunday, October 27, 2019
11:30 A.M. to 12:15 P.M. Registration
12:30 P.M. Banquet
in the Ballroom of the Doubletree Hotel – 445 S Alvernon Way
Honoring the Class of 2019
$350 per table of 10  | $40 per seat
If you would like to purchase a table, individual tickets, or make a donation, please click on the button below. Please let us know which Inductee you are supporting or where you would like to sit at the banquet on the SEATING REQUEST portion of the form and we will do are best to accommodate you.
Purchase Table/Tickets or Donate Today
You may also call us to purchase tickets!
(520) 244-8907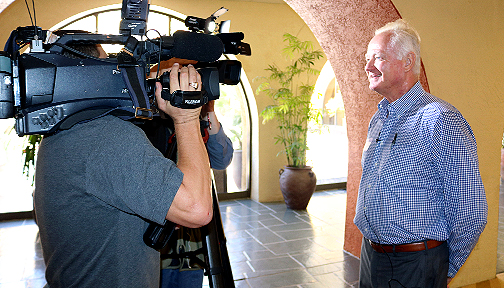 ---
See archived banquet information from previous years: