Tyler DeBerry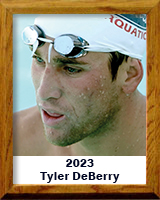 After a remarkable senior season at Sabino High School, state champion swimmer Tyler DeBerry had a difficult choice: stay home and swim for perennial NCAA power Arizona and coach Frank Busch, or go to the Big Ten's No. 1 swimming program, Michigan, one of the top names in NCAA swimming.
DeBerry, who was voted Arizona's 2002 prep swimmer of the year, winning state championships in the 200 freestyle and 500 freestyle, ultimately chose to swim for the Wolverines.
But after one year in Michigan, he returned to Tucson and swam for Busch's Arizona powerhouse. Good move.
DeBerry became a first-team All-American at Arizona in 2004, excelling in the freestyle distance races. He got much better in 2005 when he was a three-time All-American, second in the NCAA finals at 500 meters and sixth in the 200 freestyle.
But it was DeBerry's senior season, 2007, that he became nationally prominent. Paired with fellow Arizona All-Americans Simon Burnett (an Olympian) and Lyndon Ferns (also an Olympian) and NCAA champion Adam Ritter, DeBerry helped Arizona's 800 freestyle relay team win the NCAA championship.
In total, DeBerry was an NCAA All-American 13 times. That led to his selection in the UA Sports Hall of Fame seven years ago.
DeBerry's success in sports wasn't a surprise. His father, Tom DeBerry, had been a basketball whiz at NAU. His older brother, Justin DeBerry, was a star-level basketball player at Lafayette.
After his UA career, DeBerry remained prominent in American swimming. He has been a top Masters Swimmer in age-group events nationally, setting two national records. In his first 72 Masters swimming events, DeBerry finished in the Top 10 71 times.