Willie Morales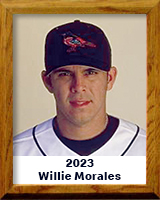 In his long baseball career, Willie Morales was a Badger, a Wildcat, a Sidewinder, a Whitecap, a Trapper, a Red Wing, a Driller, a Sky Sox, and most of all, an Oriole.
On April 9, 2000, the catcher from Tucson High School looked at the lineup card for a Baltimore-Detroit game at Camden Yards and saw his name next to that of Orioles Cal Ripken, Will Clark, and Albert Belle.
"It was pretty funny because when I was growing up I had a poster of Will Clark hanging above my bed," says Morales, now a paramedic/firefighter in Tucson.
It was a day the man who played in 1,004 minor-league baseball games will never forget. There were 42,178 fans at Camden Yards and Morales singled off Tigers pitcher C.J. Nitkowski in his first big-league at-bat.
"I remember that day like it was yesterday," he says.
Those who watched Morales in his baseball days at Tucson High suspected he would someday play in the big leagues.
You can make a good case that Morales belongs in the select company with those such as Paul Moskau, Ed Vosberg, Sam Khalifa, Shelley Duncan, and J.J. Hardy as the top high school baseball players in Tucson history.
The case? Morales left THS with 154 career hits, the most of all for Arizona's large school players at the time. It didn't take long to see that Morales had that "it" factor. He hit .406 for Tucson High's 1987 state champions. He was a freshman. A year later, as the Badgers went 28-2 as one of the top teams in state history, Morales hit .475. He went 4 for 6 in those championship victories.
As a senior in 1990, Morales hit .506 and was named Tucson's co-Player of the Year with fellow Badger Tavo Alvarez, a dominant pitcher and future major-leaguer who went 13-1 that year.
ESPN sent a film crew to Tucson. Its feature on Morales and Alvarez was titled "Best Battery in America."
Morales looks back on his baseball days with no regrets. After becoming a third-team All-American catcher at Arizona in 1993, and a first-team All-Pac-10 catcher who was a big part of the 1992 Pac-10 championship team, Morales was drafted in the 14th round by the Oakland A's.
Willie Morales spent 12 seasons in the pros, playing for five different organizations. He caught in the Diamondbacks' system in 2002 and 2003. His best year might've been 2002 when he hit .311 for the Tucson Sidewinders.
Morales retired in 2004 after being part of the Oakland, Baltimore, St. Louis, Colorado, and Arizona organizations. Although offered a scouting job by the Milwaukee Brewers, Morales chose to return to Tucson, complete his UA degree, and spend more time at home with his family.
He retired at 32, completed his UA degree, and had one more difficult decision — the life of a baseball scout/coach, or working as a paramedic and spending more time with his family.