Tom Wiedenbauer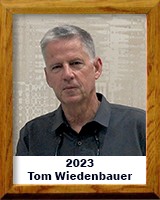 Tom Wiedenbauer got his start in baseball in the early 1970s selling soft drinks at Tucson Toros games at Hi Corbett Field.
By the early 1980s he was playing for the Toros, an outfielder with what Sahuaro High School baseball coach Hal Eustice once said was "the best arm I've ever seen for a high school player.''
By the late 1990s, Wiedenbauer was one of the most accomplished baseball instructors in the game, working first as a manager for the Houston Astros' Class AA affiliate in Columbus, Georgia, and later becoming the Astros minor league field coordinator, which is a role overseeing the development of a club's entire minor-league system.
In total, the former all-city quarterback from Sahuaro has worked in professional baseball for 47 years, a long road to success that began when the Astros selected Wiedenbauer in the seventh round of the 1976 draft.
"It's been a good way to make a living,'' said Wiedenbauer, now a special assistant to the general manager of the Cleveland Guardians. "The way I look at it, I've never really had to get a job.''
After hitting .425 at Sahuaro and making the all-state team in 1975, Wiedenbauer had the attention of college and pro baseball scouts. Arizona coach Jerry Kindall and ASU's Jim Brock offered him a scholarship. He was such an accomplished student that he was offered an appointment at the Air Force Academy.
He chose baseball. He made his big-league debut in 1979, spending the final 20 days of the season with the Astros.
There was some misfortune along the way. In 1978, Wiedenbauer suffered a serious knee injury, missing 110 games. A year later, playing for the Toros on his home turf, he was hit in the face by a fastball, fracturing his jaw, and missing the final two months of the season.
The Astros then asked Wiedenbauer to become a pitcher, taking advantage of his strong arm. He pitched 33 games at Double-A Columbus before retiring to join Houston's minor league coaching staff.
In total, Wiedenbauer spent 35 years in Houston's system and has been with Cleveland since 2012. In 2014, he received the prestigious Mike Coolbaugh Award, which annually honors the man considered the leading coach/instructor in minor league baseball.