Ashley Monceaux-Valenzuela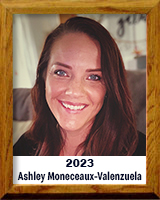 In three schools as a dominant softball player — high school, junior college, and the NCAA — Ashley Monceaux-Valenzuela left an indelible legacy.
In her senior year at Flowing Wells High School, 2002, Monceaux-Valenzuela led the Caballeros to the state championship – the third of her prep career – and was named the state's player of the year.
In her sophomore year at Pima College, 2004, Monceaux-Valenzuela set a PCC record with 79 RBI, was named the ACCAC Player of the Year, and – saving the best for last – became an NJCAA All-American by leading the Aztecs, 70-8, to the national championship.
As a senior at Baylor, in 2007, Monceaux-Valenzuela set school records for home runs (20) and RBI (71), hitting .413, then the highest single-season batting average in Baylor history. The Bears won the Big 12 championship and made a deep run in the Women's College World Series where Monceaux-Valenzuela hit .556.
That's one of the most dominating career performances ever by a Tucson softball player.
"She's really a big-game pitcher who is a fierce competitor,'' Flowing Wells softball coach Armando Quiroz, who was inducted into the Pima County Sports Hall of Fame in 2008, said after Monceaux-Valenzuela helped the Cabs to state championships in 1999, 2000 and 2002. "I have been very impressed by the type of leader she has become.''
Monceaux-Valenzuela wasn't just a softball standout. She lettered two years on the school's basketball team and another on Flowing Wells's volleyball team.
In college, she became a first-team NJCAA All-American at Pima and a third-team NFCA All-American at Baylor. She then became a coach at Evansville University before returning to Baylor to earn a Master's degree.
When she returned to Tucson she became active in youth softball again, becoming the head coach at Mountain View High School, among other activities.
She has gone on to become a success in business, an executive for a bedding/mattress firm in Tucson.