Rich Hall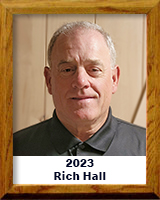 Rich Hall's path toward a football career began as a standout player at Antioch High School in Northern California and at the University of Arizona, eventually leading to an 18-year career as an NFL official.
Hall arrived in Tucson 50 years ago and was part of new coach Jim Young's remarkable 8-3, 9-2, 9-2 Wildcat teams.
At 6-5 and maybe 250 pounds, Hall had an undeniable presence as a Wildcat lineman.
As good as he was in his playing days, Hall would take it up a notch as a football official, starting at the bottom, officiating high school football games in Southern Arizona and then junior college games.
Hall was so good as a football referee that he was soon offered a position to officiate games in the Western Athletic Conference and the Big Sky Conference. From there his career took an even higher trajectory.
He was hired by the NFL in 2004 and worked for 18 seasons, retiring after the 2021 season. He also worked for several years for NFL Europe football.
Hall impressed NFL administrators quickly. He was chosen to work the playoffs in 2006, his second season.
He was chosen in 2007 to work the NFC Championship (New Orleans at Chicago) and in the 2009 Wild Card game (Philadelphia at Minnesota), as well as the Wild Card game in 2011 (Pittsburgh vs. Denver).
Rich served as an alternate official in the 2008 and 2010 playoff games and was an alternate official for Super Bowl XLV in Dallas for the Pittsburgh vs. Green Bay match-up.
Prior to 2004, Rich worked in the NFL Europe League for eight years, highlighted by officiating in the 2004 NFL Europe World Bowl played in Germany. Prior to his stint in Europe, Rich was one of the original officials hired by the newly created Mountain West Conference in 1999.
During his five years there, he worked the Alamo Bowl, Holiday Bowl, Humanitarian Bowl, and Outback Bowl games. From 1985-1998 Rich officiated in the Big Sky Conference, where he was an umpire for 14 playoff games in Division 1-AA and the National Championship Division 1-AA Game in Tennessee in 1998.
After retiring two years ago, Hall returned to Tucson and again began officiating high school football games.