Carla Garrett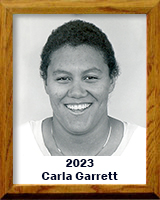 When Arizona track coach Dave Murray began recruiting his Wildcat track teams of the mid-1980s, he and his staff had one must-get target: Carla Garrett of Sante Fe, New Mexico.
In 1983, Garrett set a state record in the discus at 163 feet. No one in New Mexico had ever thrown more than 136 feet 11 inches. Garrett also set a state record in the shot put at 50 feet, ¼ inch. That broke the state record by three feet.
Not only did Arizona successfully sign Garrett, but her high school records still stand today.
Talk about a home run acquisition.
By the time Garrett completed her senior year at Arizona, in 1989, she became the first female athlete in the Pac-10 to win a double-double – the league's shot put and discus titles. She broke the conference record in both.
Such was the athletic career of Garrett, the NCAA champion at both the shot put and discus in 1989 who made the U.S. Olympic team in 1992.
"Walking in the 1992 Opening Ceremonies in Barcelona is probably the highlight of my life in sports,'' said Garrett. "It was a proud moment for me and my mom. When you first make the Olympic team, it's like you had a lottery scratch ticket and you realize you won. It was unbelievable.''
There have been many of those proud moments. After completing her track career, Garrett became a three-time USA champion in weightlifting. She was inducted into the U.S. Weightlifting Hall of Fame in 2012.
"For the stretch of my weightlifting career (1991-95), I was literally on top of the world,'' she said.
There was much more success after Garrett's competitive days ended, She was hired by her alma mater, Arizona, to be the strength and conditioning coach for Mike Candrea's softball team and Dick Tomey's football team.
She left the UA to become the strength and conditioning coach for Pima College's women's basketball team, returned briefly to her home turf to be the strength and conditioning coach for the New Mexico Lobos, but has mostly been identified with Salpointe Catholic's remarkable sports department the last 15 years.
She has been the Lancers' coach since 2006, helping Dennis Bene's football team to the 2013 state championship, and has also been a big part of the success of Salpointe's other sports teams.