Stacy Redondo Santa Cruz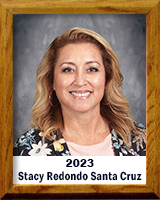 Stacy Redondo Santa Cruz didn't take long to exhibit her softball skills in Southern Arizona.
She was an all-star in the Tucson Mountain Little League in both majors (9-12) and seniors (13-15), triggering what would become one of the most accomplished softball careers in Tucson history, which included being part of the all-city team while a standout at Cholla High School.
Stacy was part of Arizona's 1991 and 1993 NCAA softball championship teams. As a senior, she was named to the All-Tournament Team at the 1993 College World Series. She soon became an assistant softball coach at Salpointe Catholic, and later the Lancers' head coach in 2013 and 2014.
The memories are everlasting for the softball star who went on to become a third-grade teacher at Roskruge Bilingual K-8 Magnet School after teaching at Drachman Montessori K-8 Magnet School.
Arizona's Hall of Fame head coach Mike Candrea is quick to talk about the time Stacy went wide around home plate to avoid a tag and score a key College World Series run in 1991. There's also the moment she grabbed an electric shaver to help buzz the hair off the UA softball coach's head following the Wildcats' 1993 national championship.
"She got a lot of enjoyment out of that," said Candrea, who had promised he would allow such a thing if the Wildcats won it all that year.
More than anything, Candrea recalled Redondo Santa Cruz's off-field perseverance, and how far she took it.
"She was so resilient," Candrea said. "She struggled her first year in school. But she came back and became an honor student and a teacher. I'm just so proud of her."
Redondo Santa Cruz actually had to leave UA briefly in 1990 to shore up her academics at Scottsdale Community College. But she qualified in time to return and play 83 games for the Wildcats' 1991 national championship team.
Afterward, she balanced both academics and softball in her professional career while raising three children and starting her teaching career. She graduated from UA with a degree in Spanish literature in 1993, while also earning a master's in Early Childhood Development from NAU.
Sadly, Stacy died earlier this year. She was just 52. The UA held a moment of silence for her at Hillenbrand Stadium in a game against Oregon State last spring.