Jeff Kiewel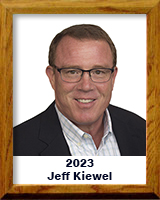 After he played his last football game for Sabino High School in 1977, Jeff Kiewel received some recruiting attention from Arizona, ASU, and Idaho.
He chose to stay home and play for the Wildcats, but the road to prominence took time. Kiewel, an offensive lineman, redshirted in 1978. He mostly sat on the bench in 1979. But he won a starting job in the 1980 opener against Colorado State and thereafter became one of the most accomplished offensive linemen in UA history.
In 1981, Kiewel made the All-Pac-10 second team. He was named the UA's offensive MVP for the season. He was so effective that when Arizona beat No. 1 USC at the Los Angeles Coliseum, UA coaches graded Kiewel's blocking efficiency at 81 percent, the highest on the team.
He was soon selected to play in the East-West Shrine Game.
A year later, Kiewel was a rock as Arizona stunned No. 1 Notre Dame in South Bend, Indiana. He was named a first-team All-Pac-12 player, a rare honor earned by only 11 other Tucson prep football players: Amphi's Riki Ellison, Mario Bates, and Jon Volpe; Cholla's Vance Johnson; Sabino's Brooks Reed; Salpointe's Kris O'Dowd; Sahuaro's Rodney Peete and Steve McLaughlin; Sunnyside's David Adams; CDO's Ka'Deem Carey; and Tucson High's Sean Harris.
Across the last 45 years, that's elite company.
The affable Kiewel was a go-to spokesman for reporters who covered the Wildcats. Before Arizona routed No. 6 ASU in 1982, knocking the Sun Devils out of the Rose Bowl, Kiewel was asked to put the Territorial Cup rivalry in perspective.
"If you win, it's a game you always remember,'' said Kiewel. "If you lose, it's a game you never forget.''
Kiewel chose to play in the new USFL rather than wait for the NFL draft in the spring of 1983. After a strong performance with the Arizona Wranglers, Kiewel signed with the Atlanta Falcons and went on to play in 28 NFL games before putting his college degree to work.
For about 25 years, Kiewel worked in the golf industry, for John Deere, Rain Bird, and Club Car, before returning to Tucson. He is now the general manager of a furniture design company. He has kept active in football by coaching at Tanque Verde High School, among other stops.
Kiewel was inducted into the Sabino High School Hall of Fame in 2012.