Dan Hicks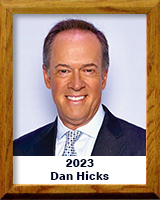 In the late 1970s, Sabino High School's Dan Hicks would sometimes sit in the bleachers at Hi Corbett Field, tape recorder in hand, and perform his own play-by-play account of Tucson Toros baseball games.
So began one of America's most successful sports broadcasting careers. For 23 years, Hicks has been the play-by-play voice of NBC's coverage of the U.S. Open.
The one-time Sabino basketball standout, a UA grad who grew up captivated by late-night radio broadcasts of Los Angeles Dodgers legend Vin Scully, is also the lead play-by-play voice of NBC's Summer and Winter Olympics in swimming and skiing.
His career has been a Cinderella story and nothing less.
Hicks got his first on-air "job'' after auditioning to be the public address announcer at the University of Arizona. He did such a professional job that he was soon hired to be the PA announcer in the Arizona Stadium press box. Hicks would announce the official details of each play to guests in the luxury suites and those sitting on press row.
At one point, Hicks described a short run that ended when a running back stumbled and fell in the open field as "self-tackleization."
Everyone laughed. It was typical of his refreshing approach to a same-old, same-old business. Over the last 40 years, every announcer inside the Arizona Stadium press box has carried on Hicks' "self-tackleization" declaration.
His creativity and remarkable knowledge of sports were the ticket to stardom.
From there, Hicks became the PA announcer for women's basketball at McKale Center and the PA voice of Arizona baseball games. He soon was hired by a Tucson radio station for a sports talk show and, ultimately, as a weekend sports anchor at Channel 4.
It wasn't long until CNN hired him to be one of its lead studio sports personalities, which led to his move to NBC 30 years ago.
Over the years, Hicks has been an NFL play-by-play voice for NBC's Sunday telecasts, a regular on Notre Dame's Saturday football broadcasts, and a versatile, hard-working, upbeat personality who is destined for American's golf Hall of Fame.
He has covered many Ryder Cups and Presidents Cups, as well as 11 Olympics.
Hicks graduated from the University of Arizona with a Bachelor of Arts degree in journalism. He is a 6-handicap golfer, who says, "If I'm not working or with my family, I'm on the golf course." Hicks and his wife, ESPN sports anchor Hannah Storm, have three daughters.