Marty Parker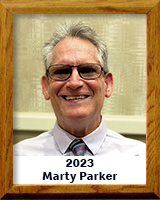 Marty Parker began his swimming career when he was 15 and there wasn't anything routine about it.
Handicapped by cerebral palsy since he was a child, Parker rolled along the new Amphitheater High School swimming pool deck in a wheelchair. It is believed he became the first disabled athlete to compete on the varsity level in Tucson prep sports.
It didn't take him long to excel and overcome handicaps.
Amphi built a 44-2 dual meet swimming record during Parker's four years for coach Dave Kintas.
After that, Parker's career really took off.
During his career as an athlete, Parker set 90 American records, and 10 world records, was crowned the United States Olympic Committee's Comeback Player of the Year, and was twice named Athlete of the Year.
At the 1988 Seoul Paralympics in Korea, Parker won a silver and two bronze medals, both individually and in team relays.
At the 1992 Barcelona Paralympics in Spain, Parker was a key member of Team USA's gold-medal-winning team,
At the 1996 Atlanta Paralympics, Parker won a gold medal in the 4×50 freestyle and then helped the American team to a gold medal in the 4×50 medley relay.
Along the way, he shared his swimming and coaching wisdom from a wheelchair on the deck of many Tucson swimming facilities. Parker became the head coach for the UA adaptive swimming program. He was also an assistant coach for the LaMariposa Swim Team and head coach of the Northwest YMCA swimming team.
An unassuming pioneer for athletes with disabilities, behind the heavy persuasion of Kintas, Parker became the first athlete with a disability ever to compete in interscholastic athletics in the state of Arizona.
His career has been much more than individual achievements. He was a pioneer for Tucson handicapped athletes. Not only did he battle cerebral palsy, but he broke his back and his neck in a car accident, requiring major reconstruction of his back and neck.
"It opened the door," said Parker. "It broke the ice, so to speak, on how they did things."
Before long athletes with disabilities were competing across many Tucson schools.
"It just kind of built up from there," said Parker of blazing the path for future disabled athletes. "I didn't think of the ramifications at that age and what it really meant."
After 10 years as an assistant coach at his alma mater, Parker retired from the Amphi swim program in 1996, leaving a strong legacy of success.