Salpointe Girls 1989-90 Soccer Team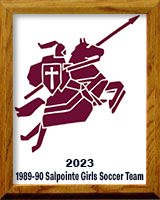 Only seven girls soccer teams have gone undefeated in Arizona high school soccer history. The first, and possibly the best: Salpointe Catholic, 1989-1990.
The Lancers were loaded, finishing 21-0, as coach Matt Panipinto's club fielded three of the most accomplished soccer players in Tucson history: Kelly Walbert Cagle, Christine Keeley, and Erin Fahey.
The 89-90 Lancers built the foundation for a four-year run in which Salpointe went a combined 64-2-1, never finishing worse than No. 2 in the state tournament.
Walbert Cagle, Keeley, and Fahey all made Tucson's all-city team in 1990, along with teammates Kelly Higgins, Kym Alday, and Dana Reed.
Panipinto, who now coaches for FC Tucson Youth and has been one of Tucson's leading soccer development coaches for more than three decades, didn't hold back when describing his leading players of 1989-90.
"Christine was worth at least one goal per game,'' he said.
"Kelly was our best player, even though she was a sophomore.
"And Kelly was our team's MVP. Our leader on and off the field.''
Panipinto left high school coaching after the epic 1990 championship season.
The Lancers beat Sahuaro 4-1 in the region championship game of 1990, with goalie Marion Leonardo making 16 saves. A day later they won Arizona's first state championship for girls soccer, edging Shadow Mountain 2-1 as Keeley and Margo Davis scored goals.
The core of the 1989-90 Salpointe team returned two years later to win another state championship with a 16-0 record, building a foundation for the Lancers to win 10 state championships from 1990-2023.
Walbert Cagle, who scored 55 points in her final two Salpointe seasons, went on to become a first-team All-American at Duke in 1994 and 1995, and the Atlantic Coast Conference player of the year in 1995. She became the head coach at Virginia Tech from 2003-10. She was inducted into the Pima County Sports Hall of Fame in 2015 and Duke's Sports Hall of Fame in 2016.
Fahey played at then-NCAA soccer power Portland, leading the NCAA's goalie statistics with 16 shutouts in 1995 to become an All-American. She played professionally in Russia and coached at Utah and Virginia Tech.
Keeley, who scored a city-record 127 goals as a Lancer, left Salpointe to accept a scholarship to Washington but transferred home to play for Arizona in 1994 and 1995, where she was a second-team All-Pac-10 player in both 1994 and 1995.
The legacy the 1989-90 Lancers left is that only five other Arizona teams have ever posted an undefeated season: Shadow Mountain in 1991, Xavier Prep in 1994, Corona del Sol in 1996, Hamilton and Pinnacle in 2011.