Armando Quiroz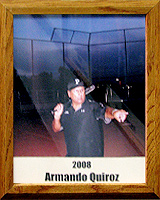 Inducted Class of 2008
Armando was head softball coach at Flowing Wells High School from 1999-2004 and won state championships in 1999, 2000 and 2002. Each year his team received a Top 5 national ranking. The 2001 team was ranked No.1 in the country by ESPN.com in March. His overall record at FWHS was 161-48-1. Armando was named Arizona Coach of the Year three times, Southern Arizona Coach of the Year three times and Arizona Big Schools Softball Coach of the Year once.
He became head softball coach at Eastern New Mexico University in January, 2005, and coached there three years with a record of 46-37. He left ENMU in August, 2007, to become head softball coach at Pima Community College where he continues to coach. As of March, 2008, Pima had a record of 26-6-1 and was ranked third in the nation. At that date his combined coaching record was 233-91-2.
Armando played two seasons of baseball at Tucson High School, from where he graduated in 1967, and one season at Phoenix College. He has coached Little League baseball and softball and ASA travel teams.