Armen Dirtadian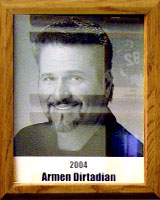 Inducted Class of 2004
Raised in Tucson, Armen got his start in golf at an early age, and by age 12 he was playing with legendary local newsman, George Borozan at Randolph Golf Course. He attended Palo Verde High School where he played Varsity Golf from 1967-1970. He went to the University of Arizona on a golf team scholarship from 1971-1974. He received an Education Degree and became a teacher in Tucson Unified School District where he coached basketball and track at Spring Junior High; basketball at Maxwell in 1978; girls tennis and boys golf at Catalina High School; and boys and girls golf at Secrist Middle School.
As an amateur golfer, Armen won the Tucson Amateur City Championship in 1984, 1985, 2001, and 2002. He has been the Pima County Amateur 9-times and qualified for the U.S. Public Links Championship 7-times. He has won dozens of other championships and titles and also holds the course record at Silverbell Golf Course at 63 (9 under par). He has done that twice! He has participated in the 2003 USGA Team Championships and most recently, was named the Masters Player of the Year in 2003 by the Arizona Golf Association.
While many know of his golf ability, most Tucsonan's know of his music and acting talents, having appeared in dozens of productions for the Gaslight Theater Company as well as other theaters in Tucson. He has performed the National Anthem at numerous sporting events and most recently came out with his own CD of music with legendary local piano player Mickey Greco.