Arte Moreno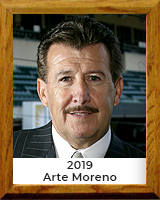 Arte Moreno was introduced as the third owner in Angels' franchise history on May 21, 2003 and his impact was immediate. Arte has guided the franchise to six A.L. West Division titles and 17 consecutive seasons drawing over three million fans, resulting in a total home attendance of over 51 million fans. In July of 2018, Arte received the distinct honor of being elected to the Board of Directors for the National Baseball Hall of Fame and Museum in Cooperstown.
Arte is a native of Tucson, AZ, and served his country in Vietnam as a member of the U.S. Army. After his tour of duty, he attended the University of Arizona, graduating with a degree in marketing. In 2005, Time Magazine selected Moreno as one of the '25 Most Influential Hispanics in America.' Arte and Carole are the parents of three children. Arte's focus is balanced between baseball, business operations and fan experience. In 2009, the Halos were voted the top franchise in professional sports in "Fan Value and Experience" in a fan poll by ESPN the Magazine. In the poll, the Angels ranked in the top three among Major League teams for 10 consecutive seasons.
During his tenure, Arte's support of the baseball operations department has resulted in the acquisition of many key players, including three-time N.L. MVP Albert Pujols, nine-time Gold Glover Torii Hunter, 2009 World Series MVP Hideki Matsui, 2005 A.L. Cy Young Award winner Bartolo Colon, Hall of Famer Vladimir Guerrero, four-time Gold Glove winner Andrelton Simmons and several others. Prior to the 2019 season, Arte signed two-time A.L. MVP Mike Trout to a record 12-year contract extension, keeping the eight-time All-Star in an Angels uniform until at least 2030. In December of 2017, two-way player Shohei Ohtani agreed to sign with the Angels after starring in Japan. Since 2003, the Angels have logged the third best win-loss recored in the American League. Over the past 17 years, Arte has strengthened the club's commitment to local communities and beyond.
In 2004, Arte and Carole established the Angels Baseball Foundation concentrating on investments in education, health care, arts & sciences and community-related youth programs to experience the positive attributes of baseball. The Foundation distributes annual grants to various youth programs within Southern California. The Angels Scholars program works with the Orange County Office of Education and the college preparatory AVID program to award several annual college scholarships. In 2010, the Angels were privileged to host their third All-Star Game (also 1967 & 1989). In conjunction with MLB's All-Star Legacy Fund, the foundation funded renovation of softball fields at Anaheim's Pioneer Park (into the MLB Angels All-Star Complex) as well as the specialsurfaced field for the Miracle League of Orange County for disabled youth. The Foundation regularly donates tickets, memorabilia and ballpark experiences to the various groups and fundraisers. Arte was also an original investor in the Arizona Diamondbacks which included the 2001 World Series championship.
Arte is also active in his own philanthropic efforts. In 1997, Arte and Carole established the Moreno Family Foundation to support nonprofit organizations focusing on youth and education as well as investing in educational scholarships in K-8, high school and college. Their favorite charities include St. Vincent de Paul, St. Mary's Food Bank, the Barrow Neurological Institute, Boys & Girls Clubs, UMOM Homeless Shelters, American Heart Association and Fresh Start Women's Foundation. Arte was also previously a member of the Little League Foundation's Board of Trustees, which assists Little Leagues in every state and more than 70 countries.