Banni Redhair Bunting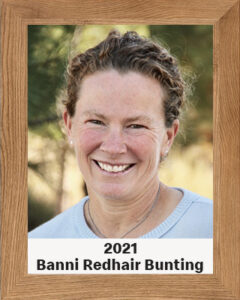 Banni Redhair Bunting is one of the leading women's tennis players in Tucson history, winning the 1987 state singles championship at Canyon del Oro High School and becoming an All-American in both tennis and NCAA academics at the University of Arizona in 1992.
Banni grew up in one of the most accomplished athletic families in Tucson history.
Her father, Jack Redhair, was a starting running back for Arizona's 1957 football team, and also the school's student body president. He became a prominent Tucson attorney and a member of the Tucson Conquistadores, the body that has operated the Tucson Open pro golf tournament since the 1960s.
Her mother, Diane Redhair, was a two-time state championship badminton player in Montana in the mid 1950s, and a UA cheerleader. Diane, who became the first PE teacher at the new Canyon del Oro High School in the 1960s, was an accomplished artist and tennis player. Diane painted the original Dorado logo on the basketball court at CDO.
Her older brother, Mike Redhair, was a standout basketball player at CDO who earned a scholarship to ASU. He became the Sun Devils' starting point guard in 1989 and 1990.
Banni was blessed with those athletic and leadership genes.
She became such a student of tennis when she helped lead the Dorados to second place in the 1987 state tournament, that her coach, Jeff Scurran, told the Daily Star that Banni was actually a coach as well as a player.
"She can run drills while she also participates in drills,'' said Scurran, also the CDO football coach. "She can also coach the girls at the same time. She hustles so much, the other girls are almost embarrassed not to hustle.''
She blossomed early as a standout tennis player, winning a doubles championship when she was 11, playing with her mother in a national event in Flushing, N.Y.
Redhair would've won back-to-back state singles titles at CDO but as a sophomore in 1986 injured an ankle and had to withdraw in the finals match, leading in the final set. She sat out her senior year of high school tennis to play in national events on the USTA and Southwest circuits.
In April 1988, Seventeen magazine, then a popular monthly publication, chose Banni as one of the top 96 girls teen-age tennis players to play in the USTA Tennis Tournament of Champions in Palm Springs, California. At the time, she was ranked No. 1 in the Southwest.
She accepted a scholarship to play tennis for coach Becky Bell at the University of Arizona and was part of the glory years of UA women's tennis, helping the Wildcats to the NCAA Tournament four consecutive years, reaching the NCAA quarterfinals in 1992. That was also the year Redhair and her doubles partner, Danielle Scott, were named Volvo Collegiate All-Americans.
After earning her UA degree, making the All-Pac-10 All-Academic team, Banni began a successful career as an FBI agent, a CPA, a Yoga teacher and an author. In 2019, she wrote a book titled "How Do You See The World,'' a publication about mindfulness, awareness, meditation and positivity.
She has been a tennis instructor in Oregon for more than 20 years, and in 2003 won three age-group USTA championships.
— Greg Hansen