Bob Klingenfus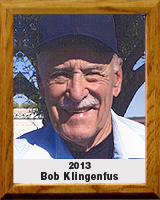 Inducted Class of 2013
Bob has been a baseball umpire, at all levels, since 1963. In his 50 years he has worked over 300 Western Athletic Conference plus PAC 10 & Pac 12 games highlighted by over 80 UofA /ASU games, a WAC play-off in 1969, NCAA Regionals in 1973 & 1974 (where the winners went to Omaha), over 200 spring training games (including full schedules when the umpires were on strike), and three exhibition games between the Tucson Toros (AAA) and a major league team. He has also worked over 300 Junior College games, over 1,500 high school games, over 800 American Legion games and over 2,000 summer league games.
He also worked as a basketball official until the mid 1970's when the early start of the baseball season caused too many scheduling problems and he chose to concentrate on baseball umpiring.
In his playing days in high school, he was the catcher on the New Athens, Illinois team that became # 2 in the state. Illinois did not have classifications so his 120 student enrollment school advanced to the state championship game after upsetting four "large" schools.
While playing amateur baseball in 1951, Bob had a personal tryout in Wrigley Field (Chicago) where he was offered a AAA contract and a bonus but decided to stay in college. Bob attended Western Michigan University on a baseball scholarship and he played in the College World Series (Omaha) as a catcher for Western Michigan in 1952.
Bob also coached high school and American Legion baseball and umpired semi-pro baseball.