Bob Vielledent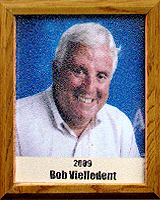 Inducted Class of 2009
Bob has been a dedicated coach of football, basketball and athletics administrator at the high school level in Tucson since 1971, starting at Sahuaro High School where he served for 32 years. He coached Sahuaro freshman and JV football for 21 years, with the JV team having an undefeated streak of 29 games (1983-87). He also coached the JV basketball team for 21 years with a 223-41 record and served on the varsity staff for 19 years.
Bob simultaneously coached the varsity football team at Santa rita High School (1987-1995) to a 57-33 record and four playoff appearances in eight years. He has the most coaching wins in Santa Rita's history. In 2002, Bob was a finalist for the NFL National Teacher of the Year award and was Southern Arizona Basketball Coach of the Year.
In 2003-04, Bob served as Dean of Students at St. Augustine's Catholic High School, as well as athletic director and head coach for boys' and girls' basketball. He now serves as the director of after-school sports and physical education at Our Mother of Sorrows School.