Brian Anderson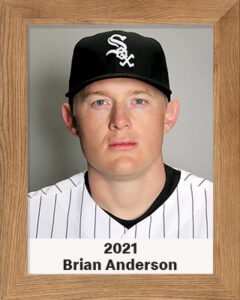 It might've been easy to overlook Canyon del Oro outfielder Brian Anderson's position on the 1999 All-City baseball team. After all, the team included future major-league All-Stars J.J. Hardy of Sabino and Ian Kinsler, one of Anderson's CDO teammates.
Or because CDO earlier had produced five other elite prospects who would eventually reach the big leagues: Shelley Duncan, Chris Duncan, Colin Porter, Jason Stanford and Scott Hairston.
But Anderson stood out because he was not only a star-level outfielder, but also a dominant pitcher who helped lead CDO to the 2000 state championship with a 31-5 record; the '99 Dorados are considered one of the top high school baseball teams in Tucson history.
Anderson had signed to play at Arizona a few months earlier, at which time UA coach Jerry Stitt said that Anderson, a right-hander, was the "top pitching prospect in Arizona.''
In his three seasons at Arizona, 2001-03, he pitched just 22 innings before Stitt and Anderson decided that his best position was as a hitter. Was it ever.
In 2003, Anderson hit .366 for the Wildcats, smacking 14 home runs with 62 RBI and 17 stolen bases. He also set the UA school season record with a 26-game hitting streak and was chosen to the All-Pac-10 first team, and was a second-team All-American choice by Baseball America and USA Today.
Anderson was in such demand that the Los Angeles Dodgers flew him to Dodger Stadium and had him take batting practice with the Dodger starters.
He hit five home runs that afternoon.
But the big payoff for Anderson came in early June, 2003 when he was the first round draft pick of the Chicago White Sox, No. 15 overall. He joined Sahuaro's Sammy Khalifa and Tucson High's Eddie Leon as the only first-round draftees in Tucson history, a group that has since grown to include Cienega's Nick Gonzalez. The White Sox gave Anderson a $1.6 million signing bonus.
In August 2005, the White Sox recalled Anderson from Triple-A. Within a week he had hit two home runs off Seattle's star rookie pitcher Felix Hernandez. Anderson played well enough in his MLB debut, over 13 games, that even though he was not on the 2005 World Series roster, he was presented a world championship ring by the White Sox.
Anderson returned to Tucson for 2006 spring training, earning the starting centerfielder's job. Andy Lopez, who coached Anderson at Arizona in 2002 and 2003, was impressed.
"I'm not stunned to see Brian in the big leagues,'' said Lopez. "When I had him he was a big, fast guy, very talented. Now he has matured into a big leaguer. He has really developed.''
Anderson played 353 MLB games over five seasons with the White Sox and Boston. The highlight of his career can be seen on YouTube highlights. In the playoff game for the American League Central championship in 2008, Anderson made a diving catch in right-center field for the game's final out.
As fireworks shot into the night sky at what used to be called Comiskey Park, Anderson's White Sox teammates sprinted to the outfield, all but carrying him off the field.
After his big league career, Anderson converted back to pitching from 2011-13 and pitched for Kansas City minor league teams and in the Puerto Rican winter league. He retired from baseball in 2013 and spent six years as a TV analyst for NBC Chicago.
This summer, Anderson returned home and joined coach Chip Hale's Arizona coaching staff.
— Greg Hansen