Brian Peabody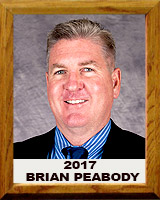 Brian Peabody has been a dedicated life-long basketball contributor within Pima County. He is a native Tucsonan, graduating from St. Joseph's Catholic School, Sahuaro High School, Pima Community College and the University of Arizona.
Brian was a part-time starter playing for arguably one of the all-time best Tucson high school basketball teams (1981) at Sahuaro under his mentor Dick McConnell (a member of the Pima County Sports Hall of Fame). He also had the honor to coach for 7 years (1983-1990) under Coach McConnell tutelage at Sahuaro before getting his own program in 1990 at the age of 27 at Green Fields School.
In Peabody's first year at Green Fields School, his team won the state championship. In his second year they were the state runner-up. In two years at Green Fields, Brain's teams won 47 games and two regional titles. The groundwork for continuous quality coaching and team success had been laid.
Brian coached Salpointe Catholic High School for 10 years in which time they had an unprecedented run in Tucson high school basketball winning 248 (241) games, nine consecutive regional titles, went to 4 state tournament final fours and appeared in two state championship games.
In six years as head coach at Ironwood Ridge High School, Brian's teams won 112 (128) games five regional titles, appeared in two state championship games and in 2008 won the last state championship for a Southern Arizona high school in the large school division (SA-11).
At Pima Community College (PCC) since 2013 and competing in one of the perennial top national junior college conferences- Arizona Community College Athletic Conference (ACCAC), Brian's teams have annually competed for a birth in the National Junior Community College Association national tournament. Under Brian's guidance as Pima's head coach they have achieved the following: Since taking over the PCC program that had only three total conference wins in the two seasons prior to Peabody's arrival, Brian's teams have finished in the playoffs and has beaten the overall ACCAC champion in each of his four seasons while winning 73 games. He also produced the first men's Academic All-American (Murphy Gershman) in PCC history.
The current team achieved a team 3.17 grade point average in (Fall 2016)highest in the history of men's basketball at PCC. In 2016/17- no players were academically ineligible (first time in PCC history). Brian has successfully employed a second-chance opportunity system where former high school players who have been out of basketball are given an opportunity to join the team on scholarship and reroute their lives. This special grassroots system has become an incredibly successful component of Brian's PCC program.
In 2014 Shakur Smith (formerly Tucson High) went on to earn a college scholarship at Adams State University and is currently playing professionally in Greece. Murphy Gershman (formerly Tucson High) Murphy received a scholarship to the prestigious Colorado School of Mines and is on track to graduate with an Engineering degree this summer (2017). This season, Emilio Acedo (Salpointe), who was out of basketball for 6 years, is now starting and is the leading scorer and rebounder in the ACCAC averaging over 17 PPG. Emilio has over 10 NCAA division 1 scholarship offers. Shakur, Murphy and Emilio all achieved first-team all ACCAC as players.
Brian has also been the head coach at The Gregory School and an assistant coach at Western Carolina University, each for 1year.
Within Brian's Just Hoops program, Brian has been a coach and mentor to over 50 local student athletes who have gone on to play college basketball. At the time, Peabody provided one of the only college gateways for southern Arizona players…and for many of these athletes free of charge, often dipping into his pocket to pay for travel, uniforms, shoes and clothing as well as tournament fees.
Other Notable Accomplishments: In a turbulent world and in a no-pay, no-publicity role, throughout Brian's entire head coaching career he has had the same top two assistant coaches, Matt Minder and Mike Morgan which have accompanied him at all schools, at all levels and remain his trusted advisors and assistant coaches at PCC today.
One of Brian's former players at Salpointe- Jesse Mermuys is now an assistant coach for the National Basketball Association's Los Angeles Lakers. Brian Smith, a former star player at Salpointe and basketball scholar at New Mexico University, is now a PhD and the assistant dean and director of sports business for the Colangelo College of Business at Grand Canyon University.
The Tucson Conquistadores awarded Brian the Outstanding Basketball Coach in 1992. Three of Peabody's former players have won a college national championship. Frequently former players contact Brian and offer thanks, provide updates on their lives, and encouragement to continue making a positive mark on student athletes.
As Greg Hansen reported in an article for The Arizona Daily Star in 2013; "No high school coach in Tucson won as many games (443) as Peabody across the last 25 years, or reached as many state finals (six). No one even comes close in numbers of players sent to Division 1 schools."
Personal: Brian is married to Kris Peabody (15 years) and has two children; daughter Payton and son Carson. In total and at the time of this submission, Brian's career coaching record is 511-176, nearly a 75% winning percentage. Brian's win total is among the highest of any basketball coach in Southern Arizona history. In his 19 years at the high school level, his teams amassed 412 wins, won 14 regional titles, competed in eight state tournament final-four games, six teams went to the state championship game and has won two state championship titles.
Although Brian has amassed over 500 wins as a head coach, maybe his greatest contribution has been his relentless determination to help studentathletes become better players and offer a stepping stone to becoming successful adults. Brian has directly helped over 100 student-athletes receive over $10 million College athletic scholarships utilizing his impressive college coaching connections, tireless personal training sessions and seemingly endless travel programs throughout the past 20 years. It should be noted that Brian has never charged a dime for connecting student athletes with college scholarships, a testament to his true basketball association.