C Stub Ashcraft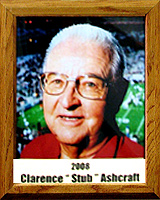 Inducted Class of 2008
Stub came from Phoenix Union High School to the University of Arizona and played varsity football, 1938 and 1941 and freshman football in 1937. He was a member of the "A" Club for each of his two seasons on the varsity. Stub belonged to the Sigma Nu Fraternity and was vice-president (1938) and president (1941-42). He was elected president of the Junior Class (1939-41). Stub was a member of the Arizona Roughriders Military Honorary (1940-42), the Army Reserve Officers Training Corps, and the Wildcat Brigade (1937-42).
He studied journalism and served in the U.S. Calvary Reserve as a 2nd Lieutenant and was called into duty shortly after the invasion of Pearl Harbor. Stub served with the U.S. Army 96th Infantry that invaded Okinawa and Leyte, and was awarded a Bronze Star for meritorious service (1945).
Stub was the University of Arizona's first Athletic Events and Facilities Coordinator and served 18 years in that role (1964-82) and helped open McKale Center in 1973. He belonged to many civic organizations and received numerous awards for his contributions to the community.
Stub Ashcraft passed away in 2008.