Callista Balko Elmore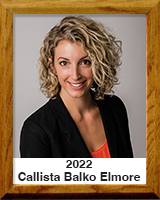 Callista Balko Elmore burst onto Tucson's rich softball scene in the spring of 2001 when she helped Canyon del Oro High School win the state championship.

That was just the beginning.

For the next three seasons, Callista became an all-city shortstop for the Dorados, which finished third in the state finals in 2002 and 2003. As a senior in 2004, Balko hit .391, was selected All-State and, better yet, accepted a scholarship to play for Mike Candrea's powerful UA softball team.
She was selected CDO's female athlete of the year in 2003-04 and set a school record in home runs and stolen bases.

At Arizona, Callista began as a combo catcher and second baseman, starting 33 games as a catcher and 16 at second base. Her career really took off after her freshman season, 2005.

In 2006, Callista caught every pitch and every game for the Wildcats as they won the NCAA championship. She hit 13 homers with 44 RBI and had perhaps the season's biggest hit, a run-scoring single at the Women's College World Series to give Arizona a 2-0 victory over Texas Longhorns' All-American pitcher Cat Osterman.

For an encore, Callista again was a key piece of Arizona's 2007 national championship team. Again, she never stepped off the field. She caught every pitch and every inning and hit 10 more home runs.

Callista completed her college career in 2008 by hitting a career-high 15 home runs. She completed her Wildcat career with 43 homers and 138 RBI, and set a still-standing Pac-12 record for career putouts.

If college softball had the equivalent of baseball's Gold Glove award, Callista would've been an easy choice.

She also found time to play for Team USA, helping the Americans win a gold medal in the 2006 World Cup in Taiwan.

At the UA, Callista was involved in leadership groups and voted into Student-Athlete Advisory Committee for two years.

After graduation, Callista married UA football standout Ricky Elmore, who had been a starting defensive end for two seasons. Callista and Ricky have two children, a son, Rekker, 5, and a daughter, Piper, 3.

Between her life as a wife and mother, Callista continues to serve the UA as the athletic department's lead fundraiser in its development department in the greater Phoenix area, raising money to support scholarship funding and capital projects.