Candy Keamerer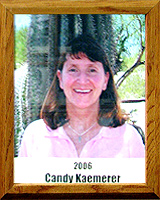 Candy graduated Cum Laude from Western Hills High School in Cincinnati, Ohio, in 1966 where she competed in swimming, field hockey, basketball and softball and was a member of the Girls' Athletic Association. She started her college career at the University of Cincinnati before transferring to the University of Arizona, earning a B.S. in Education in 1971. At the UA, she was a member of intramural sports and the Synchronized Swimming Club.
In 1972 she started Tucson Synchro (formerly the Tucson Swim Kittens), an age-group synchronized swimming team. She has been the head coach of this program for more than 34 years, a volunteer position. Her swimmers have placed in regional competition every year since 1973 and she has had swimmers qualify for the National Age Group Championships every year but once since 1989.
One of her former swimmers, Alison Bartosik, was a bronze medalist at the 2004 Olympic Games in Barcelona. Besides being a coach, she is a Level 4 USSS official in synchronized swimming; has been a stroke and turn judge with SoAZAA swimming; as well as a high school stroke and diving judge. In 2003 Candy was recognized by the City of Tucson for her 30 years of leadership and dedication to the sport of synchronized swimming. She also has served as the Women's Program Director for the Tucson Athletic Club (1974-85) and the Women's Aquatic Director for the South Branch of the Tucson YMCA. When not coaching her girls, she offers fall and summer training camps.