Casey Pfordt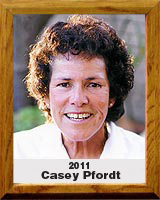 Inducted Class of 2011
Casey Pfordt was the No. 1 tennis player on the girls' team at Canyon del Oro High School for all of her four seasons. She was a runner-up in state doubles play as a freshman and the Class AA state champion in singles play in her sophomore, junior and senior seasons. In 1977, she began playing tennis at the University of Arizona as a walk-on, turning down numerous offers from other colleges, but quickly became the No.1 player for the Wildcat varsity squad and earned a full scholarship.
After her college career, Pfordt traveled in Europe and played on the professional circuit. One of her key tournaments was at Beckingham, which is a qualifier for Wimbledon, and she completed three rounds there. Back in Tucson she served as co-captain of a 5.5 USTA Women's League team in 1983 and helped that team win a national championship.
Pfordt turned to coaching in 1983 at the Catalina Racquet Club as the assistant tennis professional and later served in the same role at Randolph Tennis Center. In 1985, she was promoted to the head teaching position for the City of Tucson. There she implemented "Casey's Corps" which helps young female players become college players and receive scholarships. Since 1989, Pfordt has been the head teaching pro at the Himmel Tennis Center. She also coached tennis at Pima College, where the women's team won its regional and qualified for its first national tournament.