Cedric Dempsey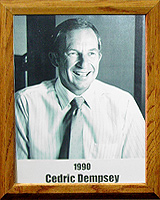 Inducted Class of 1990
As athletic director, Dr. Dempsey brought the University of Arizona "from the outhouse to the penthouse." He inherited a program with a $400,000 deficit and expanded the $6 million budget to $12 million total with a fund balance of more than $700,000. He started to preside over the UA's rise to national prominence in 1982. His UA teams played in three bowl games; received six consecutive NCAA basketball bids, including a trip to the Final Four, and a College World Series championship. The UA broke season ticket records in football and in basketball; the Cats broke the Pac-10 attendance records.
Dempsey served as chairman of the NCAA Division 1 Basketball Committee and was named a member of the all-powerful NCAA executive committee for 1990-1995.
Dempsey is active with several charitable causes and is most visible with the Cedric Dempsey Cancer Run each fall to raise funds for the UA Cancer Center.