Chris Rastatter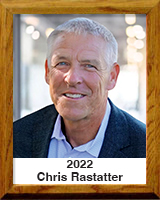 Chris Rastatter began officiating basketball games at the Lakeside Sports Club on Tucson's east side in 1988. Today, he is the NCAA's coordinator of men's basketball officiating.

"I think I was paid $9 a game when I started,'' he remembers. "But I liked it from the start. It got in my blood.''

Talk about a long climb to the top.

After playing basketball at Rincon High School, graduating in 1980, Rastatter began working part-time as Fitness/Sports Director at the Lakeside club while working toward his bachelor's degree from the University of Arizona.

By 1991, he was hired by the Arizona Interscholastics Association to referee high school basketball games. By 1993, he was hired by the ACCAC to work junior college games in Arizona.

Finally, in 1995, he was hired by the Pac-10, the top level of college basketball. He has since worked in the Big 12, Big Sky, Mountain West and West Coast conferences. Along the way, he has been selected to officiate 12 conference tournament championship games.

He was selected to work the first of 19 consecutive NCAA Tournaments – an assignment based on merit – in 2002. The ultimate honor a college basketball official can get is to be assigned to the Final Four. Rastatter has twice been to the Final Four, including the 2021 national semifinals.

Consistently ranked in the nation's top 20 officials rankings by the Kenpom.com website, Rastatter was honored in 2018 when he received the Pac-12's Booker Turner Award, symbolic of the league's leading official.
When he was hired by the NCAA to direct more than 800 officials last summer, it stamped Rastatter's career as a success.

"Chris distinguished himself as the best overall candidate after a national search," NCAA Senior Vice President of Basketball Dan Gavitt said. "He has had a highly successful career as an elite official over nearly three decades on the court. Chris has earned the respect of his referee peers and coaches as an effective communicator and rules expert.''

Rastatter has a passion for teaching. He was co-director of the Southern Arizona Officials Camp for 22 years. He served as a clinician for hundreds of officiating clinics for the past 27 years and is a mentor to scores of younger referees.

He is currently the director of the Tucson Youth Officiating Program, an outreach program designed to teach young men and women the life tools and skills to promote self-confidence and growth throughout basketball officiating.