Clarke Duncan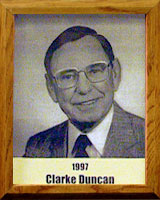 Inducted Class of 1997
Clarke's sports career began by earning four varsity baseball letters at North Phoenix. After four years in WWII, he returned to earn two varsity baseball letters at Phoenix College and the University of Arizona. While at Phoenix College he was the Varsity coach and player. At the UA, he coached the Junior-Varsity under Frank Sancet. During the summer of 1951, he coached for the Casa Grande Jr. Legion baseball team and for 14 years, coached in the Tucson Little League, Pima County and City Recreation Programs at various levels of competition. He was selected to the Arizona Semi-Professional All Tournament teams in 1947 through 1949 and 1051 through 1954. He received First Team All-American Honors from the National Baseball Congress of America in 1949. He also received All-District Honors in 1953 and 1954 from the National Softball Congress of America. In 1958 and 1959 he served as president of the Tucson Amateur Baseball and Softball Federation.
After graduating from the UA, he became active in the Arizona Towncat Foundation. He served on the Board of Directors and was president for two terms. He raised money to support the UA athletic programs, volunteered for 31 years as a track official, and 43 years at the scorer's table in basketball.
Clarke's support of the University of Arizona has been recognized many times. He has received the UA's highest honor, the Alumni Service Award. He has received the Distinguished Citizen's Award, the T. Bruce Huffman Award, the A.L. Slonaker Award, the Bridge Builder Award for founding the Head Start Program on campus, the Honorary "Bobcat" Award, the Letterman's Club Appreciation Award (twice), and the Alumni Director's Appreciation Award (twice).