Cleo Robinson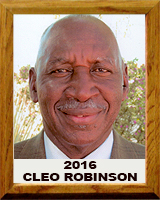 Inducted Class of 2016
Cleo Robinson graduated from Marana High School in 1965. He participated in football, basketball and track. His senior year, he received athletic honors: 1st Team All State Linebacker, 2nd Team All Conference (Basketball), 2nd in the State/High and Low Hurdles and 1st in the 880 relay. In 1998, he was inducted to the Marana Hall of Fame.
Robinson attended Northern Arizona University on a track scholarship where he was part of the 1967 Hall of Fame track team, setting an indoor low hurdle record, ran 100 and 200 yard dash, high hurdles and relay. He qualified and competed in the NAIA Regional Championship in the 120 high hurdles.
Robinson's officiating started in 1978 with high school basketball and football. His first certified year, he was selected to officiate an Arizona State Championship football game and boys and girls basketball. That same year he was appointed to officiate Pacific 10 Football games and Big Sky Basketball making him the only Arizona official working NCAA Division 1 in two sports. He advanced from high school directly to Pac 10 football, also officiated Arizona Junior College Football and Basketball.
In Robinson's Pac 10 career, he was a field official for 26 years and instant replay official for the past 4 years. As a field official, he received assignment to 19 post season bowl games, including 3 BCS bowl games. In instant replay, he has received 3 bowl games to include 1 BCS assignment.
In 1998, Robinson was awarded Arizona Official of the Year by the National Federation Interscholastic Officials Association.