Courtnay Foster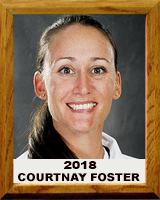 In her high school softball debut, a Sahuaro Cougar sophomore in 2000, Courtnay Foster pitched a no-hitter and struck out 16 Catalina Foothills batters. It was a sign of big things to come.
Before Foster completed her prep career, she went 54-5 at Sahuaro, leading the Cougars to the 2001 state championship, and pitching coach Billy Lopez's team to the 2002 state finals against Flowing Wells.  After outlasting Desert Mountain in a 10-inning state semifinal game in '02, Lopez said "Courtnay gives us a feeling like we're not going to lose. When she is on, all we need to do is score a run.''
That theme carried on to Foster's college days at Northwestern. She pitched the long-downtrodden Wildcats into the 2006 Women's College World Series. In the opener against Alabama, Foster struck out 14 batters in five innings, winning the game in relief. That wasn't much of a surprise in 2006, because a year earlier she was named to the NFCA All-American team. Overall, Foster went 80-37 at Northwestern with a 1.49 ERA. She set a school record with 1,014 strikeouts.
After her college days, Foster pitched professionally in Italy for a year, then returned to Tucson as a pitching instructor. She then returned to Northwestern, spending five seasons as the school's pitching coach.
Others took notice. She was soon hired as the head softball coach at Bucknell, and now is the pitching coach at Alabama-Birmingham.
Foster began pitching at 11, starting from scratch. She expressed interest in the game to her father, Dave, and together they figured it out – and then some. At Northwestern, she was a three-time All-Big Ten pitcher. In one of her games at Northwestern, she struck out 18 Boston College hitters.
"Courtnay pitched every inning of our 2001 state championship season,'' said Lopez. "She went 4-0. She really thrived in the toughest situations. She just loved to compete.'' At the 2001 state championship game, Foster actually beat a deadline to pitch the Cougars past Catalina Foothills and to the title. The Sahuaro High Senior Prom was scheduled that night, and the softball players half-seriously told Foster to finish the game as quickly as possible. It took Foster and Sahuaro 54 minutes to win the state championship that night. That's what you call a dominating pitcher.
— GREG HANSEN