Dan Huff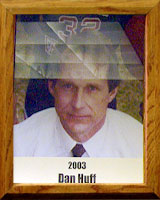 Inducted Class of 2003
Born in West Virginia, Dan moved to Tucson and attended school in the Amphitheater District. A 1967 graduate of Amphi High School, he played varsity basketball when he was No. 2 scorer in the city and named to both the Tucson Citizen and Arizona Daily Star all-star teams.
A two-time graduate of the University of Arizona, Dan continued to have success on the court as the boys' basketball coach at Canyon Del Oro High School where he coached for 20 years and won 321 games and several regional titles. He coached 14 first-team All-City players and helped the young men land Division 1 scholarships. Besides boys' basketball, Dan coached at a time when it was common for the boys' coaches to also coach girls' basketball since they had different seasons. Here he had equal success when CDO went 100-28 in five seasons under Coach Huff. The girls made it to the championship game in 1985 but lost by one point to Phoenix South Mountain. However, within two years, the Dorados would go 28-0 enroute to a 69-55 win over Mesa for the 1987 state championship in what would be Dan's final year as coach.
His greatest player of the game, Nicole Smith, was named the Gatorade State Player of the Year. It wasn't until 2005 that another girl's basketball school, Salpointe Catholic High School, would earn a berth in the Class 5A championship game. Dan Huff retired from coaching the boys at CDO after the 2000-2001 season, sending one more year teaching at the school before changing districts. He now teaches math at Salpointe.