Dana Cooper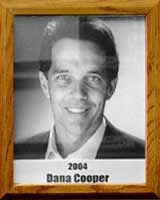 Inducted Class of 2004
Dana started his college career at Lewis and Clark College in Oregon where he played water polo. He transferred to Montana State and received a degree in Television Production. While in college he was a member of the "Up With People" musical group and toured with them for two years and helped in public relations and production. After he graduated he moved to Tucson where the corporate office of "Up With People" was located.
Because of his reputation in the area of promotion and public relations, Network West hired him to host two University of Arizona coaches' shows. When Network West gave up the contract, Dana convinced the UA to hire him directly and for more than 15 years he hosted the Lute Olson and Dick Tomey television shows. He also raised over $1.6 million in advertising revenue for the UA. He went on to produce commemorative films for various programs in the athletic department as well as instructional videos for Precision Shooting Equipment.
He is a past chairman of the insight.Com Bowl and the Tucson Fiesta Bowl Committee, as well as a longtime dedicated board member of the Metropolitan YMCA. He now owns his own production and public relations firm and continues to assist with UA sports as well as dozens of community causes in which he has lent his voice and "emcee" talents to countless fund-raising dinners and telethons. A widowed father raising two teen-age daughters, Dana also serves on the advisory board of the Fellowship of Christian Athletes.