Dave Baldwin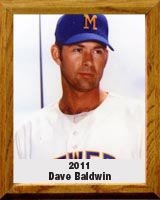 Inducted Class of 2001
Dave Baldwin played baseball in Tucson from junior high school through college at the University of Arizona, and played professional baseball for 16 years.
Baldwin started at Catalina Junior High School (now Doolen Middle School) in 1952, and played on teams in the Optimist Youth League, at Tucson High School (posting a 17-1 record), for the Casa Grande Cotton Kings, and at the UA (1957-59). As a Wildcat, Baldwin's record was 23-5. In 1959, he finished second in the nation with 143 strikeouts in 108 innings, and in the College World Series pitched a two-hitter to beat Fresno State 5-1, but lost the final game to Oklahoma State, 5-3. In three seasons, Baldwin struck out 321 and had an ERA of 2.88.
Starting in 1959, Baldwin pitched in the minor leagues for the Philadelphia Phillies, New York Mets and Houston Colt .45s organizations. He signed with the Washington Senators in 1964 and made the big leagues in 1966. In 1967, Baldwin had a 1.70 ERA, third best in the American League, and ranked seventh in saves (12) and ninth in appearances (58). He later played for the Milwaukee Brewers and Chicago White Sox.
Baldwin also is an author and artist specializing in baseball themes and has participated in several studies on the science of baseball. His 2008 baseball memoir, "Snake Jazz," describes experiences from 1947 until his retirement as a player in 1974.