David Adams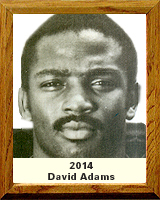 Inducted Class of 2014
David Adams was born in Tucson, Arizona on the Davis Monthan Air Force Base where he was the first baby born in the new hospital.
Adams was a student athlete at Sunnyside High School. He excelled at running back at Sunnyside under head coaches Paul Petty and Terry Seward. He was All City and All State in 1980-81 as running back and returner. He led the state in yards per carry–12.6, punt return–8.7 and kick off returns 38 per return in 1980. In 1981 KVOA Channel 4 and the Tucson Citizen named him player of the year. He also led the city in rushing in 1981. He was Honorable Mention All American and played in the North/South All Star Game. During his high school career the Blue Devils were 22-3.
Adams earned a scholarship to the University of Arizona where he was a three-year starter leading the Wildcats in rushing each of those years. In 1984, he earned All Pac 10 second team at running back and returner. In 1986, he was the first back in Arizona history to lead the Pac 10 in rushing (1224 yards) and was first team All Pac 10 and Honorable Mention All American.
Adams helped the U of A to two bowl games, the Sun Bowl and the Hula Bowl. He also played in the Aloha Bowl college all-star game.
Adams was drafted by the Colts and played for the Dallas Cowboys and the LA Rams. He ended his playing days in the CFL.