Dennis Anderson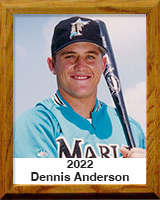 Dennis Anderson had a stellar year as a Canyon Del Oro High School athlete in 1995-1996. He was a first-team all-city defensive end for the Dorados, a two-way starter, who also played tight end and was CDO's long-snapper.

Anderson then jumped into wrestling and finished fourth in the state a few months later, finishing as an all-city selection at 186 pounds.

In the 1996 high school baseball season, Anderson was Tucson's player of the year and a first-team All-State catcher. The New York Mets drafted him but Anderson chose to play at Pima College, where he was chosen to the All-ACCAC team in 1998 and became a two-year starter for the Aztecs.
Anderson established the CDO single-season baseball record with a .504 batting average. He also broke the school record with 54 hits. In June of 1996, Collegiate Baseball magazine named Anderson the first-team prep All-American catcher.

He was also an honor roll student at CDO.

In his one season at Arizona, 1999, Anderson was the starting catcher for the Wildcat team that reached the NCAA regionals. He batted .349.
He was drafted by the Florida Marlins and, once signed, began an eight-year career in the minor leagues in which he played in 490 games, getting 1,401 at-bats. He reached Double-A and played for the Carolina Mudcats of the Southern League.

Anderson remains active in baseball, giving hitting lessons and coaching an elite travel ball team.

He is the son of Len Anderson, who coached Canyon Del Oro to the 2009 state baseball championship.