Dick Tomey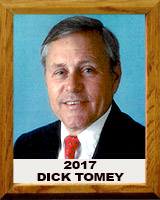 Let Dick Tomey into your locker room, board room or convention hall and learn to create a winning attitude for your organization. Dick is a Career College Football Coach having served as President of the American Football Coaches Association 2009-10, who until recently was one of the only three college Coaches to be the Winningest All-Time Coach at two Division-! Universities. (Along with Bear Bryant and George Welsh).
Dick's assistant coaching stops included Miami (Ohio), Davidson, Kansas, UCLA, The NFL 49ers and Texas. Most recently Tomey was Associate Athletic Director at University of South Florida where he helped the Bulls to the Miami Beach Bowl.
During twenty-nine years as a Head Coach, Dick's teams at Hawaii, Arizona and San Jose State were known for their toughness and fight, and finding a way to win with less. Tomey led University of Hawaii into Division-!, produced consistent winners, set attendance records and played a schedule that included some of the nation's best, USC, Nebraska, Oklahoma, South Carolina, Wisconsin, ASU, and Arizona.
In 1987, Tomey became the head coach at Arizona, earning Pac-10 "Coach of the Year" honors in 1992. During his tenure, he coached five future NFL first-round draft choices, 20 AllAmericans and 43 Pac-10 first team players. Dick's best teams were in the mid-1990's, highlighted by a tenacious "Desert Swarm" defense. Dick led Arizona to two of their three tenwin seasons in school history, highlighted by a 12-1 campaign in 1998, in which they finished fourth in both major polls, the highest in school history. Arizona was the only team to defeat both Miami and Nebraska (who dominated the 90's) in Bowl games.
Dick was honored with the Provost Award as the University of Arizona's Outstanding Teacher in 1999, voted so by the faculty, a rare honor and is a member of the University of Arizona Sports Hall of Fame.
Dick was then brought into SJSU to resurrect a program on life support. Five years later unparalleled academic success, the program quadrupled in attendance and a Bowl Championship Team signaled that Spartan Football was alive and well again.
Using personal stories and insightful anecdotes, Tomey will inspire your organization. His presentations on team building, leadership and strategies for success are punctuated with humor and imagination. Tomey's concept of the "Human Equation" in the internet driven world is timely. He calls on us to recreate ourselves and our careers in these uncertain times. Among his clients are Avaya, Cisco, IBM, The Pebble Beach Company, Wang, Sheraton, Servco, VMWare, The Fiesta Bowl and The Bank of Hawaii.
He has also been a college football analyst for ESPN, Fox and CBS. Dick and his wife Nanci Kincaid (a successful Fiction Writer) have four adult children. Home base for the Tomey's is Tucson, Arizona.
Personal Development Guru, Tony Robbins, says of Tomey in his National Best Seller Unlimited Power, "Dick Tomey is one of the best motivators I know!"