Don Moore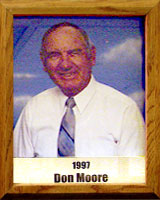 Inducted Class of 1997
Don attended Tucson High School and played on the baseball team as a pitcher and outfielder. After taking time out to serve two years in the Army Infantry, where he was awarded the Purple Heart, he returned to Tucson to graduate with the class of 1946 and entered the University of Arizona, playing on the freshman baseball team before signing with the Cleveland Indians and playing for the Tucson Cowboys.
After being injured, Don returned to Tucson to begin a career as a letter carrier (known as the Singing Postman) and later as Deputy Clerk for the Superior Court. Due to his love of sports, Don became a sports official for football, basketball and baseball in 1952. Over the next 45 years he officiated for Rocky Mountain Conference football/basketball; WAC Conference baseball; Arizona Junior College football/baseball/basketball; AIA football/baseball/basketball; and American Legion baseball. He was selected to work the Junior Series, American Legion Baseball regionals and World Series Semi-Pro, as well as the men's Senior League World Series.
For his many hours spent officiating, Don received the NFIOA Outstanding Official Award; Distinguished Service Awards from the Rocky Mountain Conference; AIA Basketball, baseball and football; JCAAAA ; and the AIA Service Award to Student/Athletes. Don also was presented the Jack Stewart Award by the National Football Foundation and College Hall of Fame. Always ready to officiate, Don also worked the 1997 National Senior Olympics in Tucson.