Ed Hochuli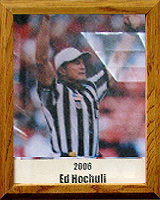 Inducted Class of 2006
Born on Christmas Day in Milwaukee, Ed moved with his family to Tucson where he played in youth football leagues and graduated from Canyon del Oro High School. He went to college at the University of Texas El Paso and earned a BA with honors in 1972. While at UTEP, he played linebacker from 1969-73. From 1973-76, he attended the University of Arizona College of Law and earned his Juris Doctorate with honors. He passed the bar exam in 1976 and is current a partner in the Arizona Law Firm of Jones, Skelton, and Hochuli since 1983.
Ed began working for the NFL in 1990 after many years as a college official. He became a head referee in 1992. In addition to his weekly officiating, he has been a referee for Super Bowls XXXI and XXXVIII (31 and 38). Ed is the most popular referee in the history of the NFL, mainly because of his courtroom-like long dissertations as he explains a call on the field. He is also known for his buff muscular frame compared to other NFL officials. He wears #85 on his uniform. His popularity as an official is evident by his being mentioned as one of David Letterman's Top-10 lists!
As an attorney, he has tried over 160 civil jury trials; focusing his practice on extra-contractual defense, transportation defense, and product liability. He is a member of the American Board of Trial Advocates as well as Director of the Trucking Industry Defense Association. He is a strong supporter of the March of Dimes, and is the Chairman of the Walk-America Committee. Ed is a board member of the NFL Referees Assoc.