Elmer Carrier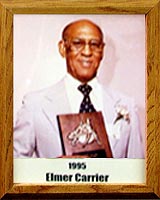 Inducted Class of 1995
Elmer Carrier is to be remembered for his contributions in promoting and coaching sports for 14 years. He was a very successful coach at Dunbar Junior High and later, for 6 years, coached at Safford Junior High School.
We should not forget Elmer's supervision of the umpiring for Tucson City Parks and Recreation where, as Commissioner, he saw the Sandlot Baseball Program grow from an 8-team league (playing only on Sundays on barren fields), to an 80-team league playing on lighted, green baseball fields.
Elmer served as CEO of President Johnson's "Hand Across The Border" baseball program that sponsored sports and arts activities in Arizona and Old Mexico. Elmer was also active in organizing the Southern Arizona Sport Foundation. This group sponsored the baseball tournament from which two teams qualified to play in the Kansas Semi-Pro Tourney.
Elmer, a lifelong member of the National Education Association and the NAACP, was a 6-year member of the Commission On Human Relations; and a founding member of the Tucson Urban League. He served on the Tucson Council for Civic Unity and as a board member of the Arizona Children's Colony, as well as being a board member of Tucson Youth Development and the Tucson's Boy's Club.