Frank Busch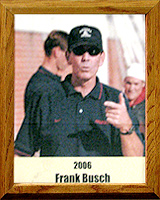 Inducted Class of 2006
A native of Cincinnati, Frank experienced coaching for the first time at age 16, substituting for a missing coach at his swim club in Edgewood, KY. It was then he learned how influential a coach can be and decided he would become a swimming coach. Busch graduated from Loyola, IL University in 1973. In his 34th year of coaching, Frank started in the U.S. Swimming coaching the Northern Kentucky Piranhas fro 74-78; the Cincinnati Marlins from 79-80; the University of Cincinnati from 1980-1989. In 1989, he moved to Tucson to take a coaching job at the University of Arizona where he has been ever since.
During Busch's era at the UA, he has been named PAC-10 Women's Coach of the Year 6-times; the NCAA Women's Coach of the Year 2004); the USA Swimming and USOC Coach of the Year (1998) and in 2006 was one of two head coaches for 2006 Pan Pacific Games in 1995, 1997, and 1999.
Busch also served as a coach at the World Championships in 1993, 1998 2003, and 2005. He was an assistant coach for the 2004 Olympics, primarily coaching Gold Medalist Amanda Beard. He has earned a reputation for foreign swimmers and many of them have chosen to attend the University of Arizona, including Olympic medalist from England and South Africa. A respected authority in coaching style and technique, Frank has produced a series of videos on swimming skills and techniques and was chosen to be an assistant coach for the 2008 Olympics in Beijing China.