George Arias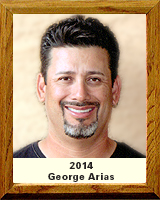 Inducted Class of 2014
George Arias was a student athlete at Pueblo High School. In 1990 he helped the Warriors capture their first and only state championship in baseball. After setting home run records at Pueblo, he moved on to play at Pima Community College.
In 1992, Arias helped the Pima Aztecs qualify for its fourth Junior College World Series in Grand Junction, Colorado. To this day he holds the JUCO World Series record in grand slams with three in two games. He also holds the Pima College record in home runs with 17.
In 1993, Arias played with the University of Arizona where again he broke the home run record. In that same year the California Angels drafted him in the 7th round
In 1996, Arias made his major league debut for the Angels. The following year he was traded to the San Diego Padres for Major League Baseball Hall of Famer Ricky Henderson. He was part of the Padres National League Champions who played the New York Yankees in the 1998 World Series.
In 2000, Arias went overseas to play in Japan for the Orix Blue Waves. In 2002, he joined the Hanshin Tigers and played in the Japan World Series in 2003. That same year, he won his first Golden Glove and the Best Nine at first base.
After 14 years of playing, Arias retired as a player at the end of the 2006 season. He is now the Director of Baseball Operations for the Tucson Champs Baseball Academy. His passion for baseball and kids has driven him to help youth on and off the field. He is helping to develop them by utilizing the game of baseball to teach core values and life skills. This development will allow his students to excel academically and athletically.