Glenn Ezell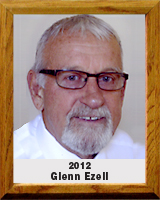 Glenn Ezell graduated from Amphitheater High School in 1962 and lettered in three sports – baseball (4), football (3) and basketball (2). He was all-city two years as a catcher.
Ezell Spent two seasons at Arizona Western College, playing baseball and football and was honored as the National Junior College Athletic Association All-American first-team catcher in 1966. That year Ezell embarked on a professional baseball career as a catcher, spending nine seasons in the Mets, Twins and Giants organizations, including four seasons in AAA ball.
Ezell was a minor league manager for 13 years before becoming bullpen and bench coach for the Texas Rangers, Kansas City Royals, Detroit Tigers and Tampa Bay Rays. When Ozzie Smith was inducted into the Major League Baseball Hall of Fame, he mentioned Ezell as a mentor who was significant in his early career. In 1999 Ezell received the Dwight Lowery Award as the Minor League Instructor of the Year for the Detroit Tigers. He caught for the Durham Bulls, of movie fame, their Carolina League championship season (1967).
Ezell has been a minor league spring training coordinator and Instructional League coordinator for 12 seasons.