Greg Hansen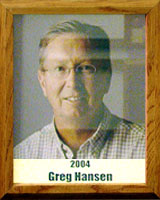 Inducted Class of 2004
Greg was born and raised in Logan, Utah. He is a graduate of Utah State University. He played competitive Baseball in High School and College. Until his early 40s he played in the Tucson City League that included such players as former U of A Football Coach Dick Tomey. However it was his love of writing about sports in which he has had an impact.
He started his journalism career at the LOGAN HERALD-JOURNAL as a sports reporter at the age of 17. He then went on to become the Editor of the USU student newspaper. After college his first job was as a sports writer for the Desert Morning News in Salt Lake City. Later he would become the Sports Editor of the LOGAN HERALD-JOURNAL. Following that he became a "beat" writer for the Tampa Bay Buccaneers at the St. Petersburg, Florida Times in 1976 and later the Sports Editor of the ALBANY DEMOCRAT-HERALD in Oregon.
Greg came to Tucson in 1981 as a "beat" writer for U of A football, and became a fulltime Sports Columnist on 1983 where he has been ever since. During his career he has covered 6-Super Bowls; 3-Summer Olympics; 5-Rose Bowls; and numerous "Final Fours"; "World Series" and "NBA" Finals.
He has won dozens of awards and recognition for his writing from such prestigious groups as the Associated Press Writers Association and the Arizona Newspaper Association. He has been named "Sportswriter" of the Year in Utah and "Sports columnist" of the Year several times in Arizona. Greg is an avid golfer with a career best round of 71. His column is usually the first thing read by most Tucson sports fans, especially his Sunday morning column.