Hayden Smith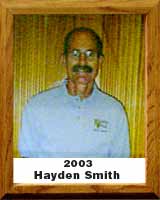 Inducted Class of 2003
Born in Flint, Mich., Hayden moved to California as a youth and attended Crawford High School (Class of 1966) where he lettered in football and track. He attended Albion College in Michigan (Class of 1970) where he was on the track team and set the school record in the long jump, also winning the league championship in the event.
After leaving Albion, he taught in the Flowing Wells School District and coached the JV and was assistant varsity wrestling coach from 1971-1975 during which they won three state champion ships. He also coached Flowing Wells Junior High track where he started the girls' track program. Moving up to the high school level, he was the varsity assistant in track for 20 years and the girls' varsity head coach for two years. During that time his girls won six regional championships and five state championships and the boys won four regional titles and had one state runner-up. He has had two athletes ranked nationally, Erin Doherty in 1997 and Andy Almodova in 1980.
It was after his second year as cross-country coach at Flowing Wells that he decided that he needed to become a distance runner to improve his coaching – and he hasn't stopped. He has raced in over 65 marathons, with a best time of 2 hours, 26:10 minutes. He did a sub five-minute mile at the age of 42 and took a silver buckle in the Western States 100-mile Wilderness Race, as well as winning the Mule Mountain Marathon in 1980. As fate would have it, Hayden had the opportunity to go back to his college, Albion, and teach and coach track. He is pursuing that dream right now before he decides to hang up his running shoes in Tucson.