Heather Moore-Martin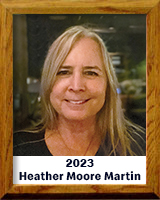 On a warm spring afternoon in May 2010, underdog Catalina High School was matched against the favored boys volleyball team from Catalina Foothills. The most imposing statistic was that CFHS had a 42-match winning streak.
Such was the stage when Catalina coach Heather Moore-Martin told her team, the Trojans, that they were good enough to win the state championship that afternoon — at a neutral setting, Pueblo High School, that was filled with Foothills fans.
Two hours later, Catalina won the state title. It triggered one of the most impressive coaching performances in Tucson's history.
Good enough? Moore-Martin's teams have been better than that.
Since that 2010 afternoon, Moore-Martin's teams have earned eight more state championships, including Catalina's back-to-back title in 2011, after which Moore-Martin said "These fairy-tale seasons don't happen by accident.''
Indeed, Moore-Martin's volleyball expertise goes all the way back to 1983, when she was part of iconic coach Mary Hines's state championship at Catalina. It took her 27 years to add another trophy to the school's old trophy case.
A few years later, Moore-Martin was hired by Salpointe Catholic. Her success accelerated.
The Salpointe girls volleyball team won state championships in 2016, 2021, 2022, and 2023. In the spring, with beach volleyball as a new sport to Arizona high schools, Moore-Martin coached the Lancers to state beach volleyball titles in 2021, 2022, and 2023.
Moore-Martin earned her college degree in the world-renowned Racetrack Industry Program at the UA. But once she noticed that fellow Racetrack grads Bob Baffert and Todd Pletcher spent so much time on the road, training and racing horses globally, she chose to stay home and coach volleyball.
She was hired to be both Catalina's boys and girls coach in 1998 and immediately built consistent winners. Thus, there's no "fairy tale'' script.
"Just hard work,'' said Moore-Martin. "We know that spending time in the gym correlates to winning, so we put in the time. There's nothing glamorous about it.''
With six state championships in the last three seasons, expectations for Salpointe's volleyball and beach volleyball teams are unusually high. Moore-Martin welcomes the attention.