J. J. Hardy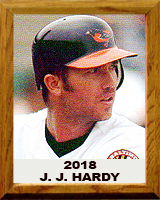 In his first year as a major-league shortstop, battling a shoulder injury, J.J. Hardy was hitting .155 at the All-Star break, in mid-season. Most teams ship a struggling rookie back to Triple-A, but Milwaukee Brewers manager Ned Yost said there was no need to do so with Hardy. "We felt J.J. was mature enough to handle the adversity,'' said Yost. "No matter how bad it got, he had the makeup to deal with it.''
At 24, Hardy proved the Twins correct. He hit .314 the rest of the season, finishing at .244 as a MLB rookie. By 2007 he was in the All-Star Game. He went on to become one of the best-fielding shortstops in major-league history, winning Gold Glove Awards in 2012, 2013 and 2014 with the Baltimore Orioles. Over 13 big-league seasons, Hardy played for the Brewers, Twins and Orioles. He hit 177 home runs and amassed 1,488 hits.
The son of a pro tennis player/instructor, Hardy surfaced as a prospect during his sophomore season at Sabino High School, 1999. He hit .527 with 12 home runs, believed to be a record for a sophomore in Tucson prep baseball. He continued to get better. In his senior year at Sabino, 2001, Baseball America ranked him as the No. 15 overall prospect in the U.S. Hardy signed to play at the University of Arizona, where his father had been an all-conference tennis player. But J.J. didn't get the chance to play for the Wildcats because the Twins drafted him 56th overall in June 2001.
"I compare J.J. to (Hall of Famer) Robin Yount,' said Sabino coach Bob O'Donnell in 2001. "He looks so unassuming, but he's such a great player.''
At Sabino, Hardy saved nine games as a relief pitcher in 2001. His fastball touched 91 mph. In a state quarterfinal playoff game against Corona del Sol in 2001, Hardy hit two home runs out of the Amphitheater High School ballpark, both of them landing on Prince Road. He also saved the game with two strikeouts in the last inning.
After his final high school season, Hardy flew to Minnesota to work out with 60 other prospects. But the club considered him something special, and arranged for Hardy to work out one-on-one with their batting coach, Hall of Famer Rod Carew. A week later he was drafted in the second round and began a successful journey to baseball's All-Star Game.
— GREG HANSEN