Jane Martindell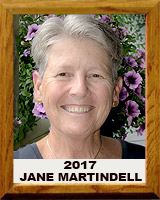 A 1969 graduate of Rincon High School, Jane Martindell excelled in all Ranger athletics: #1 on the Varsity tennis team and captain of the volleyball, softball and basketball teams.
Jane received her Bachelor of Science degree in Physical Education and English at the University of Arizona in 1973. Jane earned her Masters degree at the University of Northern Colorado in the Sociology of Sports in 1977 (M.Ed.).
At the University of Arizona, Jane competed and excelled on the U of A's Volleyball, Basketball, Softball and Field Hockey teams. She captained the basketball and softball teams and co-captained the volleyball team. Jane also excelled in the classroom and was a complete studentathletic: she was selected to the Spurs, Chimes, Spurs, Mortarboard and the Arete Society. The University of Arizona recognized Jane's athletic excellence during her senior year when she was named the "University of Arizona's Outstanding Sportswoman." In 1996, Jane received the ULTIMATE athletic recognition bestowed on its athletes: she was inducted in the University of Arizona Sports Hall of Fame.
In the first two years after graduating from the U. of A., Jane and Pat Void started the first ever AAU Women's basketball team in Tucson. During that time period the team competed across the southwest and Mexico representing Tucson. Jane was the only member of the team recognized on a regional tournament all-star team in 1974.
After teaching and coaching at Santa Rita High School, Jane left Tucson to work on her Masters degree at Colorado State, and coached both Volleyball and Softball. Both of these teams improved their past records, and Jane caught the eye of Univ. of Northern Colorado's nationally ranked softball program, and was hired as their head coach in 1977. Jane's teams at UNC achieved national prominence, and she led the team to 4 regional championships and a second place finish at the Division I College World Series in 1978, and a fourth place finish in 1979. She was named Coach of the Year for the Intermountain Conference twice (1978 and 1984). She was inducted into UNC's Sports Hall of Fame along with her Division I National Runner-up Softball team in 1998.
At Yale, Jane took a struggling program that had finished last in the Ivy League into distinction: that first year they finished one game out of first place. She was named Ivy League Coach of the Year in 1984. While at Yale, Jane earned her 200th NCAA softball win and served on the Softball All-American Selection Committee.
After a decorated coaching career, Jane settled in to her academic career. While she was coaching Volleyball at Western State College, she also worked in the advising office. This led to a full time career in academic advising. She was the Assistant Vice President for Academic Affairs at Western State College and recently retired from prestigious Kenyon College where she served as Dean for Academic Advising and Support as well as director of national fellowship and awards (including Fulbright Grants, Marshall Scholarships, and Rhodes Scholarships.) Jane received many honors at Kenyon: the Distinguished Service Award in 2006, given to honor administrators and staff who had exceptional accomplishments; who provided outstanding service and dedication to Kenyon students, staff and others and contributed to the overall vitality, beauty and legacy of the College; Selection by the senior class to give the 2008 Baccalaureate address at graduation, and the Middle Path Medal in 2014-given to an individual who has made a significant contribution to the Kenyon, Gambier, or Knox County communities.
Jane's continued advocacy for athletes and athletics was recognized when she received the William A. Long Award in 2001: awarded by Kenyon to a member of the College who had made an outstanding contribution to developing and clarifying the role of athletic play and competition in the life of the College. Her support and advocacy for student athletes and the athletic programs allowed her to maintain a strong relationship with athletes and coaches.