Jason Jacome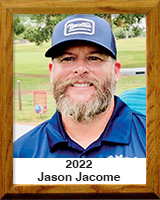 Jason Jacome's grandfather, Eddie, and his father, David, both were All-City pitchers who were signed by big-league teams and pitched in the minor leagues.

Jason took it a step beyond: After being named Tucson's high school pitcher of the year in 1989, after pitching Rincon High to the 1988 state championship finals, Jason became a first-team NJCAA All-American at Pima College.

In a remarkable 1991 season, Jacome broke PCC's record for wins in a season by going 17-2 and pitching the Aztecs to the Region One championship game.

A week later, the New York Mets drafted Jacome, a lefty, in the 12th round.
After working his way up the minor- league system, pitching effectively in the Appalachian League, the Florida State League, the South Atlantic League, the Eastern League and the International League, the Mets summoned Jacome to the big leagues.

He was placed into the starting rotation with All-Stars Bret Saberhagen and Dwight Gooden and made his MLB debut on July 2, 1994. He was only 23.
Jacome probably pitched the best game of his pro career in his second start in the big leagues, July 7, 1994. Pitching against Los Angeles at Dodger
Stadium, Jacome pitched a six-hit shutout.

Jacome pitched in the major leagues for the next five seasons, appearing in 106 games, pitching 261 innings. He was a key relief pitcher for the Cleveland Indians during their 1997 American League championship season.

Jacome was later traded to the Kansas City Royals and Cleveland Indians.
His final game in the big leagues was Sept. 23, 1998, when he started against the World Champion Yankees in Yankee Stadium.

After his major-league career ended, Jacome had plenty of pitching chops left. He went 14-2 for Triple-A Buffalo in 1998, and won 21 games in two seasons pitching for the Japanese big league's Yakult Swallows.
Jacome pitched in the Mexican League and, in 2001, came home and pitched for the Triple-A Tucson Sidewinders, leading the club with 121 innings pitched.

A year ago, moving back to Tucson from Madison, Wisconsin, Jason became the associate head coach at Pima College, working for his younger brother, Ken Jacome, who is PCC's head coach. Jason's son, Atley Jacome, is a relief pitcher for the Aztecs.