Jay John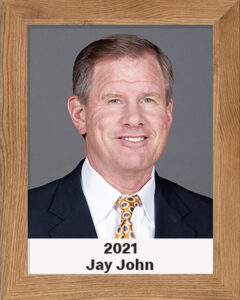 Jay John currently serves as California's Associate Athletics Director for Development and Sports Administration. He spent six seasons with the Cal men's basketball program, including six as an assistant coach under Mike Montgomery.
For most of John's career he served as a college basketball coach for 31 years with his final six seasons on the Golden Bears' bench. While coaching at Cal, the Bears posted 130 victories – their winningest stretch in more than 50 years.
John's role as Associate AD for the Bears includes overseeing the basketball program's operations and external partners. He has helped enhance Cal's presence with alumni and served as a steward for Cal's rich basketball tradition, while raising over
$16 million to support Men's Basketball initiatives. Currently, John serves as the Sport Administrator for twelve of the thirty sports sponsored at Cal.
During John's three decades on the sidelines, he served as the head coach at Oregon State and worked as an assistant at Arizona, Oregon, Butler and San Francisco, in addition to Cal. Through that time John has been a part of conference championships at three different schools, (Cal, Arizona, Butler) and has been to nine NCAA tournaments and five NITs. He has helped guide each program he worked at to the postseason during his tenure as a coach. Over those 31 years, John recruited and coached 14 NBA players.
At Oregon State from 2002-08, he directed the Beavers to the 2005 National Invitation Tournament, compiling a 17-15 mark, for the program's first postseason berth and winning record in 15 years. He won 66 games during his first five seasons in Corvallis, the most for an OSU coach in a five-year stretch since 1988-93.
John spent four years under Lute Olson at Arizona where he was part of the Wildcats' appearance in the 2001 national championship game. He also coached at Oregon for two stints (1985-86 and `97-98), with additional stops at San Francisco in 1988-89, Butler from 1989-97, and Jamestown Community College in New York. He entered the coaching ranks at his alma mater, Salpointe Catholic High School.
A 1981 graduate from the University of Arizona with a degree in Biology, John earned his Master's Degree in Education from Butler University in 1994. He and his wife, Lisa, have two sons, Tyler and Trevor.