Jerry Carrillo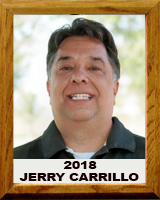 Before Jerry Carrillo was hired as the men's basketball coach at Cochise College, the school had gone 15 consecutive years without a winning season. Now, across 23 years, the Apaches have had 23 consecutive winning seasons under Carrillo. The once-woeful team from the Arizona Community College Athletic Association has been a national power for almost two decades, twice reaching the NJCAA Sweet 16 at the annual tournament in Hutchinson, Kansas.
The one common thread is Carrillo, who grew up across the street from Salpointe Catholic in the '60s and '70s and became a standout guard for the Lancers, capped by being part of the all-city team in 1982. His journey took him to the University of Arizona, where he earned a degree in 1987, and to Cal-Northridge, where he earned a masters degree in 1992. Before that, he began his coaching career, first at Jamestown College in New York, and later at Cal-Northridge. From there he began a successful stint at Sierra Vista Buena High School and finally to Cochise College on the outskirts of Douglas, near the Mexican border.
Carrillo has been a remarkable recruiter. His teams are almost always stocked with players from every conceivable corner of America. Only a handful of Douglas-area and Santa Cruz County players have been good enough to play in the ACCAC. So Cochise hustles and hustles and hustles.
In January 2018, he coached the Apaches to his 500th career victory, an average of almost 23 per season. How does he do it? He was a trend-setter in the ACCAC, leading the league in scoring almost every season. From 2015-17, Cochise averaged 92, 94 and 91 points per game. It works, too, because Cochise has gone to the Region I playoffs 23 consecutive seasons, believed to be a league record.
Others in the basketball world have noticed. USA Basketball hired Carrillo to be part of the USA U-19 team coaching staff. Earlier the NJCAA appointed Carrillo as part of its 2004 NJCAA All-Star team.
Over the years, Carrillo has been sought out for job openings at many of the Division II and Division III levels in the Southwest. He was offered the head coaching job at Chaminde University in Hawaii, but has chosen to remain at Cochise and become an institution. The gymnasium at Cochise College seats about 1,200 people. On game nights, especially on Saturdays, it is often full to overflowing, a tribute to what Carrillo has built there.
— GREG HANSEN